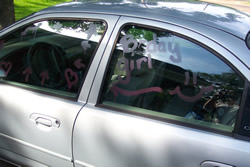 Here is one of the pictures of my car. It's a little hard to see, but I wanted to "share" a little of my experience!
We will have internet access tomorrow, so I hope to post some pictures of our house! I'm so excited! However, I find that, given a choice, I would rather stay home - so I know it will be even harder to leave the house once I get internet access. There is so much to do online!!!
Well, I guess I'd better get to work! Have a great day!